The San Diego-based technology firm has established its R&D unit in Salo, South-west Finland.
NUVIZ, a San-Diego based technology firm set out to shape the future of connected motorcycling, has secured a major strategic investment to prepare for the commercial launch of its highly-anticipated head-up display (HUD) technology.
The over €3-million investment is good news also for Finland and, more specifically, for Salo.
The head-up display, a device projecting information into the rider's field of view, and connected riding solutions scheduled for launch later this spring have been designed and developed entirely in the almost 55,000-resident city in South-west Finland, reveals Arto Kiema, the vice president of research and development at NUVIZ.
"We developed a concept for a device that didn't exist in three months. Another three months later we had the prototype ready for testing. A local motorcycle club rode some 50,000 kilometres in test rides and gave us feedback – if not daily, then on a weekly basis."
"It was a busy spring," he says.
Kiema describes the device as not too dissimilar to a smartphone, a product rather familiar to the research and product development team he leads that consists almost exclusively of ex-employees of Microsoft and Nokia.
"That's our bread and butter," he says. "The optics part, on the other hand, proved a bit challenging, and the basic design was made at the optics laboratory of VTT [the Technical Research Centre of Finland]."
Up and riding in no time

The research and product development subsidiary, NUVIZ Oy, was registered in August, 2015, following news that Microsoft had decided to pull the plug on its product development facility in Salo.
"I was contacted by San Diego and given the assignment to recruit 20 of Microsoft's best product development experts in Salo," recounts Kiema.
NUVIZ, he reveals, had already recruited two of his former colleagues at Nokia in San Diego. Both of them were well aware of not only the expertise available in Salo but also the variety of business promotion organisations in Finland.
"Finnish engineers are half as expensive as their colleagues in California," highlights Kiema. "They're also very loyal and don't hop from one firm to another every six months after cashing in the first stock options."
"The Finns in San Diego," he adds, "knew that if need be we could turn to organisations such as Finpro, Finnvera, [the Finnish Funding Agency for Innovation] Tekes and even Yrityssalo [Salo's business development agency]. And we've turned to every single one of them."
Kimmo Ojuva, a senior advisor at Finpro's Invest in Finland, similarly considers the case a testament to the competitiveness of Finland.
"It was rewarding to get the opportunity to help the company find the expertise required to develop such ground-breaking technology in Finland and to see concretely that Finland is definitely competitive in comparison to the Silicon Valley," he comments.
He also reminds that the initial contact between San Diego and Salo was made through KAATO, a business community dedicated to helping international companies establish and expand their operations in Finland. "The Finns in San Diego are all members of KAATO. The company was up and running three weeks after the initial contact," tells Ojuva.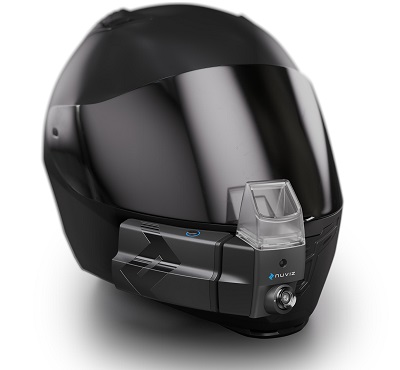 Transforming the motorcycling experience

NUVIZ was one of the first international companies to set up a research and development unit in Salo following the departure of Microsoft Mobile, tells Antti Rantakokko, the Mayor of the City of Salo.
"Here they will have access to both the facilities and talent needed to continue their growth," he affirms.
The growth prospects are indeed brighter than before. The investment from Pierer Industrie AG, the Austrian parent company of the KTM Group, is expected to present both of the companies with opportunities to take advantage of strategic synergies in marketing, distribution and product integration.
"We are very happy to have found a partner with deep industry knowledge, and the expertise and patience needed to build a sustainable technology business," commented Malte Laass, the co-founder and chief strategy officer at NUVIZ.
His sentiments were echoed by Stefan Pierer, the chief executive at the KTM Group.
"NUVIZ is set to release one of the most anticipated motorcycle products of the year. We look forward to working with NUVIZ as they unveil new HUD and connectivity capabilities that stand to transform the motorcycling experience as we know it," he said.
Sources: