If you are looking for a business location in the European Union, why not consider the most competitive country in Europe? Especially post Brexit, Finland is being recognized as an attractive alternative.
With access to top high tech talent and a Silicon Valley inspired business culture, Finland is an R&D hotspot and a testing ground for your next big thing. Innovation driven and economically successful Finland has already brought to the world the SMS, the Wearable Hearth Rate Monitor, the Linux operative system, Clash of Clans, and Angry Birds. Finland is the biggest contributor to global innovation in the world. Knowledge transfer between business and universities has been one of the key factors in Finland's track record of innovation and economic success.
Due to a structural change in the Finnish ICT sector, there is now a unique opportunity to engage top talents. Even better – you can recruit ICT brainpower with an extremely competitive cost. The total salary costs of the senior software engineer in Finland are 30 % lower compared to the cost of a German engineer. Nokia's lasting legacy ensures that Finnish engineers know how to mass manufacture even the most complex electronics. The Finnish talent pool continues to be replenished with Finland's superior educational programs. Finland repeatedly ranks among the best nations in the world in PISA surveys, which measure young people's knowledge and skills in mathematics, reading and science.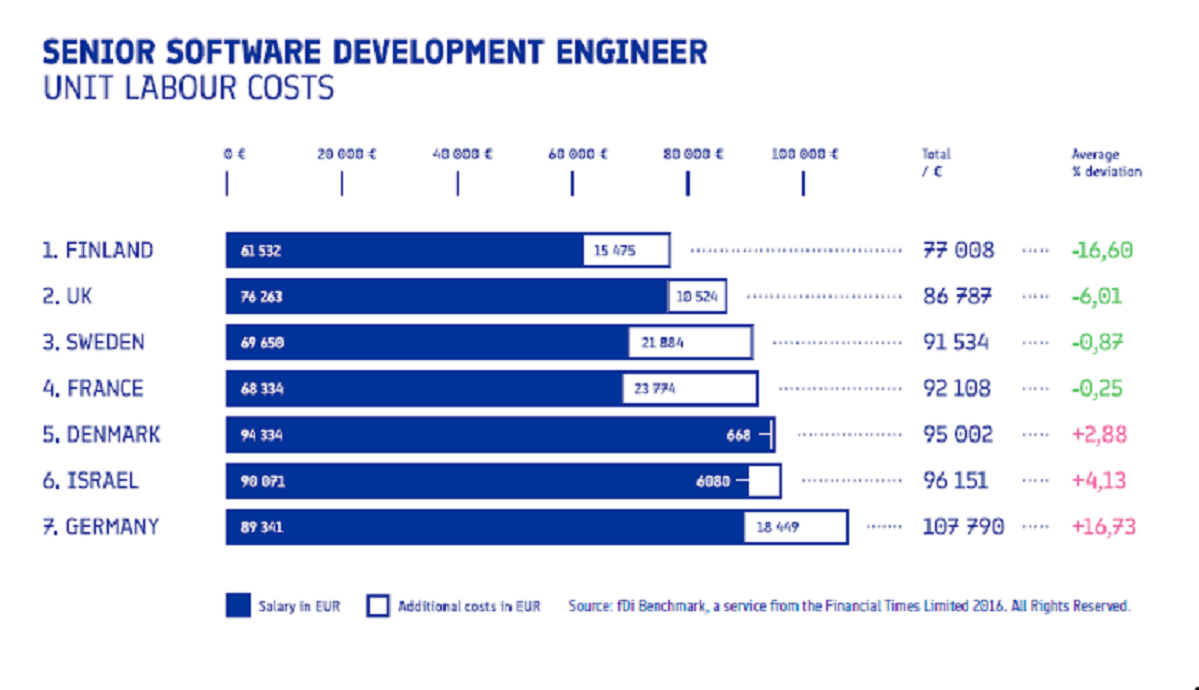 Finland, as a EU member state, has immediate and long-term opportunities for international companies, especially in these sectors:
Corporate European Headquarters. Want an English speaking business environment for your European HQ? Take advantage of the only Nordic country with the Euro, offering one of the lowest corporate tax rate – only 20 % – in Europe. With the fastest flight connections between Europe and Asia, Finland serves as an excellent gateway to Asian companies.
Data Centers. Remarkably low energy prices and energy tax rate combined with the possibility to sell excess heat to energy network makes it 40-50 % cheaper to run a data center in the North than in Central Europe. In Finland, data centers profit from the country's political, seismological and economic stability. Additionally, businesses benefit from a regulatory environment that respects online privacy, and simultaneously from the transparency by Finnish legislation that forms a secure foundation for investments. The best cyber security solutions have been invented in Finland, such as the most used internet protocol SSH.
R&D functions. Being inside the EU is favored by businesses for development, especially with strict security requirements. Sectors like financial technology, public sector solutions and health care benefit from locating research and development functions inside EU. In Finland, innovation thrives. Finland ranks 1st in the study of Countries' Impact on Global Innovation. In 2013, 3 % of all Finnish employees worked within R&D, this being one of the highest share in the world.
International companies are warmly welcomed and enjoy high return on investment in Finland. They can access same benefits as Finnish companies and can also apply for European funding in Finland. Setting up a business in Finland is quick and easy. Opening a legal entity only several weeks.