Markku Lehikoinen, Senior Advisor Invest in Finland, Finpro
"Writing is both my vocation and my avocation; that's all I do." So did a pencil portray itself in Leonard Read's famous essay I, Pencil. For Finns the comparable forte might be in research and development.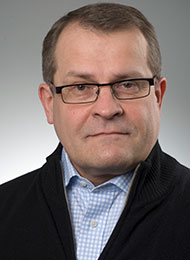 A growing number of international companies have decided to locate their R&D activities in Finland. Behind the individual decisions dwells the basic nature of business life.

The essence of business is in the added value of new innovations. To create something unprecedented or to do something never done before, is the fundamental driver of human ambitiousness.

In business, research and development lays the foundation for new innovations. R&D is at heart a curious and ambitious adventure into the nature and substance of things that exist. It is the cornerstone of any human, as well as business action. To put it simply: R&D is important for any company willing to succeed.

The likes of Rolls-Royce, Airbus and Huawei are building up their R&D in Finland, because they desire to succeed. They did their homework and came to the conclusion that Finland is a home run for R&D. In Europe, we rank first on the list of R&D expenditure as a percentage of GDP, per the Unesco Institute for Statistics.

We really are that good at it. Doing something that has never before been done and creating the unprecedented is both our vocation and avocation.

For a while, Rolls-Royce has been cooking up its remote and autonomous ship technology on the west coast of Finland. The ships, now considered futuristic, will play a key role in the future of the global maritime industry. For Rolls-Royce, autonomous vessels are just the most recent twist in the British company's over a 50-year presence in Finland.

Meanwhile, Airbus trusts in Finnish cyber security and connectivity skills. In Finland, Airbus Defence and Space is developing the so-called TETRA mobile radio technology, which is mainly used by public authorities like government agencies, emergency services and police forces.

Our third example, Huawei, opened its Finnish R&D unit in 2012. A little while later the original R&D investment decision was followed by a second unit. On the heels of the second R&D announcement, Huawei raised the stakes even more with a new service center.

One of the Chinese company's Finnish R&D features is 5G technology – and they are not alone. Just ask Nokia and Ericsson. Besides, even more interestingly, the trio of telco giants has partnered up together with Finnish 5G activities. Collaboration like that is something you don't see an awful lot.

Even though I have only highlighted a handful of companies above, the list does not end there.

For instance, there is Zalando. And IBM. And Intel.

All of these have been impressed by our greatest asset: exceptional R&D capabilities.

That's all we do.

Join us at the Mobile World Congress 2017, located in the heart of Hall 5 (Finnish pavilion 5F31), and learn why Finland is an ideal test bed for new solutions and technologies!

Markku Lehikoinen
Senior Advisor
Invest in Finland, Finpro
Having worked with international R&D for over 20 years, spotting interesting R&D opportunities for international companies in Finland in his current job is like a walk in the park for Markku.