Lars Hagebris, Senior Advisor, Invest in Finland, Finpro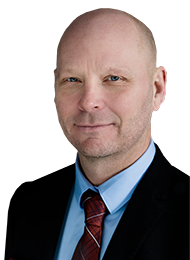 I have worked now close to a year at Finpro's Invest in Finland unit and with Finns. During that time three things have become very clear to me.

First, Finland offers a great way for Swedish companies to grow their business.

Secondly, our cultures differ from each other – in a good way. Finns are not necessarily as talkative as we Swedes, but you can count on them. Sweden is to a great extent a "product -oriented country", while Finland is more technology-driven and there are great ways these two traits can complement each other.

Thirdly, the cultural differences are also the very reason why Finland cannot be considered a home market but requires local team members for successful market expansion.

Right now the competition for IT personnel is fierce in Sweden whereas Finland can offer highly skilled experts at a very competitive cost due the structural change in the industry. This presents an untapped goldmine of IT expertise right at Sweden's doorstep.

For instance, there is currently an opportunity to acquire complete R&D teams. Several large international companies have already been turning their attention towards Finland, also from areas like the startup mecca Silicon Valley.

An American company Nuviz is a great example. They chose to move their operations to Finland, since there was a large proportion of people with good knowledge of artificial intelligence.

Also companies like Zalando, Huawei, GE Healthcare and LG Electronics have recently established departments and tech centers in Finland, and hired hundreds of new employees.

I work in Stockholm as a local point of contact for Swedish companies interested in exploring Finland further. If you are looking for brainpower for your next big thing, I would be happy to help. Drop me a line, give me or call and let's meet!
Lars Hagebris
Senior Advisor, Sweden
Invest in Finland, Finpro
I like to make a difference and appreciate accountability. To help Swedish companies to differentiate themselves with Finnish capabilities is a great way to make a difference.

However, sometimes I need to remind the Finns how good they are. After a seminar about the Finnish economy in Helsinki this autumn, a person from the audience approached me after the presentation and said, "strange, that it has to be someone from Sweden to come to Finland and tell us how good we are."